Next time you're at the supermarket grab a bag of sweet potatoes. Bake them, cool them and pop them in the fridge. You now have the base for an endless variety of quick and easy meals. If you can find the orange variety of sweet potato, even better - they are truly delicious.
To bake them first give them a quick scrub but leave that skin on. Then rub them with a bit of oil, olive oil if you have it, and pop them on a baking tray in a 180 degree C oven until they are soft when you poke them with a knife. This should take from 45 minutes to an hour.
When they are cool pop them in the fridge, no need to cover.
And this is where the fun starts. You need a snack? You need a light meal? Simply warm up the sweet potato in the microwave and cut it lengthwise in half. Make little slits in each half and apply toppings of your choice.
Sweet Potato Topping Ideas
Cherry chilli pesto and feta cheese (any pesto will work but look out for for the cherry chilli one - it's made by Mediterranean Kitchen and is divine)
Cream cheese and sweet chilli sauce
Leftover chicken shredded in mayonnaise
Sour cream, chives and grated cheddar
Leftover mince with some chopped fresh tomato, salt and black pepper
Lashings of butter and salt - simple but so delicious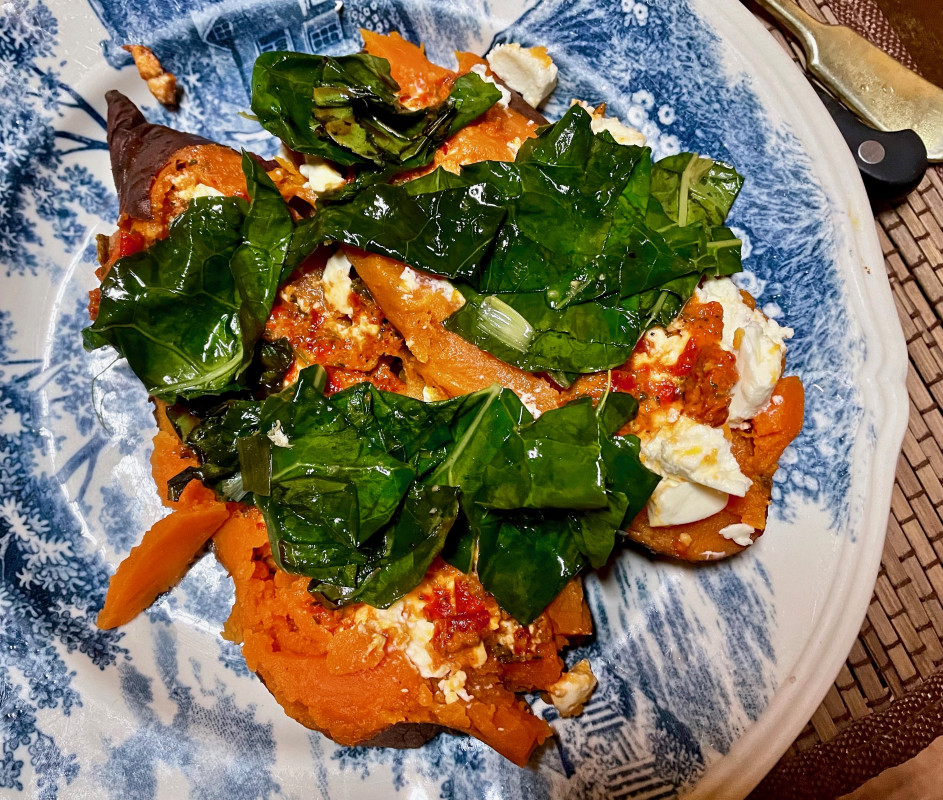 For a nutritious boost do what we did and top with some sauteed kale - see our Hail to the Kale blogpost for instructions!